Four new services through CSC were launched yesterday at the National conference for CSC District managers in Delhi. These were CSC India First Insurance Khata/ CSC Indian Navy Recruitment Services / CSC TCS Skill Courses and CSC Essilor Healthcare services.
Launch of Insurance Khata 
 CSC SPV and IndiaFirst Life insurance launched "Insurance Khata" Plan, an inclusive financial plan that enables the mass market to avail insurance benefits with a convenient process. The plan takes in to account the possibility of seasonal income and provides the customer with the flexibility to pay premium in parts, as and when possible. It offers a structured platform that drives socially-inclusive and long-term development through community participation. The plan will leverage CSCs' footprint of 2.7 lakh centres across the country, focusing to make insurance not only affordable but also accessible and attractive to the lower rungs of the social pyramid. Over time, bringing a less-acquainted market into insurance fold ensuring every strata of the society is covered against risks.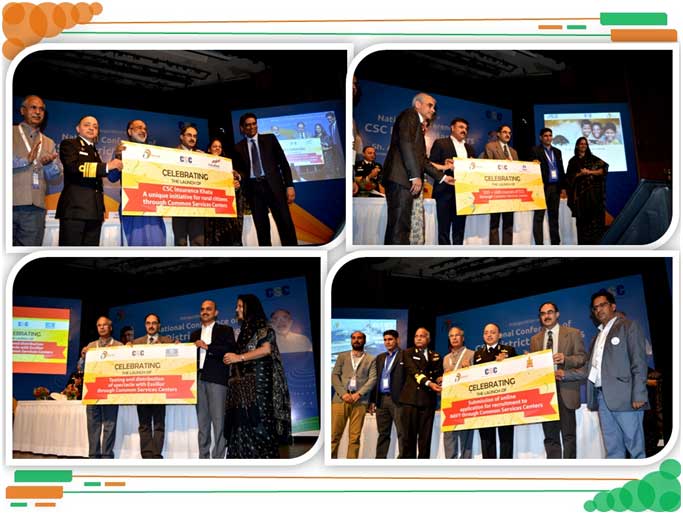 Online applications through CSCs for Indian Navy recruitment
Candidates applying for recruitment in the Indian Navy will now be able to fill up online applications through CSCs. Assistance to candidates will be provided through CSCs in the filling up online applications for Indian Navy induction / recruitments.  CSC SPV will assist Indian Navy by providing access to CSCs network across the country for assisted online recruitment application form filling services. CSC SPV will also support Indian Navy in Advertising and Marketing of its vacancies & recruitment publicity through banners at CSC locations.
Exchange of MOU between CSC academy and TCS – for Skill
On this occasion, MoU exchanged between CSC academy and TCS to develop skill ecosystem in rural India. Now, more than 300 skill courses will reach to the rural masses through CSC network in India.
Exchange of MOU between CSC & 2.5NVG Essilor for Health care
A MoU was exchanged for eye testing and distribution of spectacles through CSC network. Through this service, refractive index of eye can be tested and the glasses can be dispensed by a VLE at the reasonable prices.